Choosing the Right Paddle Board
What is paddle boarding?
SUPing or stand up paddle boarding is now a hugely popular watersport that is a mixture of kayaking and surfing! With the board emanating from a surf board and the paddle very similar to that of a kayak, the aim is to stand up on the board, while paddling yourself across water.
Why paddle boarding?
During the Spring lockdown of 2020 rivers, waterways and seaside towns throughout the UK saw a huge increase in people taking to watersports – whether to alleviate the boredom of being at home, or to simply change up their once a day exercise to the form of paddle boarding. With no experience needed, but perhaps a general grasp of balancing on two feet on a moving object, it is very accessible to all. Despite the usual groans about the wonderful British weather, mother nature seemed to bless us with glorious sunshine and a Spring to remember. This led into a Summer of equally great weather and forgetting the torments of, dare I say it, Covid-19, many had a wonderful summer spent paddle boarding on the water. It is a great escape from the humdrum of daily life, as well as a different perspective on the beauty of our seasides, rivers, lakes and waterways.
How to choose the right paddle board for you?
Both inflatable and solid SUPs are available to rent, but it's important to bear in mind that while inflatable boards usually pack down to a backpack or wheelie bag, the solid boards will need a van or roof rack to transport. So, if you're limited to the size of your car boot, it's probably best to rent an inflatable board.
Outside of any construction or size restrictions that transporting the board might cause, there are also various types of board. These depend on your intended use, experience and also the size of the paddler. The main three types of board are:
Surf SUP
As the name suggests, the surf SUP is more suited to spending time in the surf! They are generally shorter, have a narrower pointed nose and a squared-off end. If it is manoeuvrability in a bit of chop that you are after a surf SUP is what you need. However, with the narrower, shorter shape you lose stability, speed and often they don't track particularly straight when on flat water.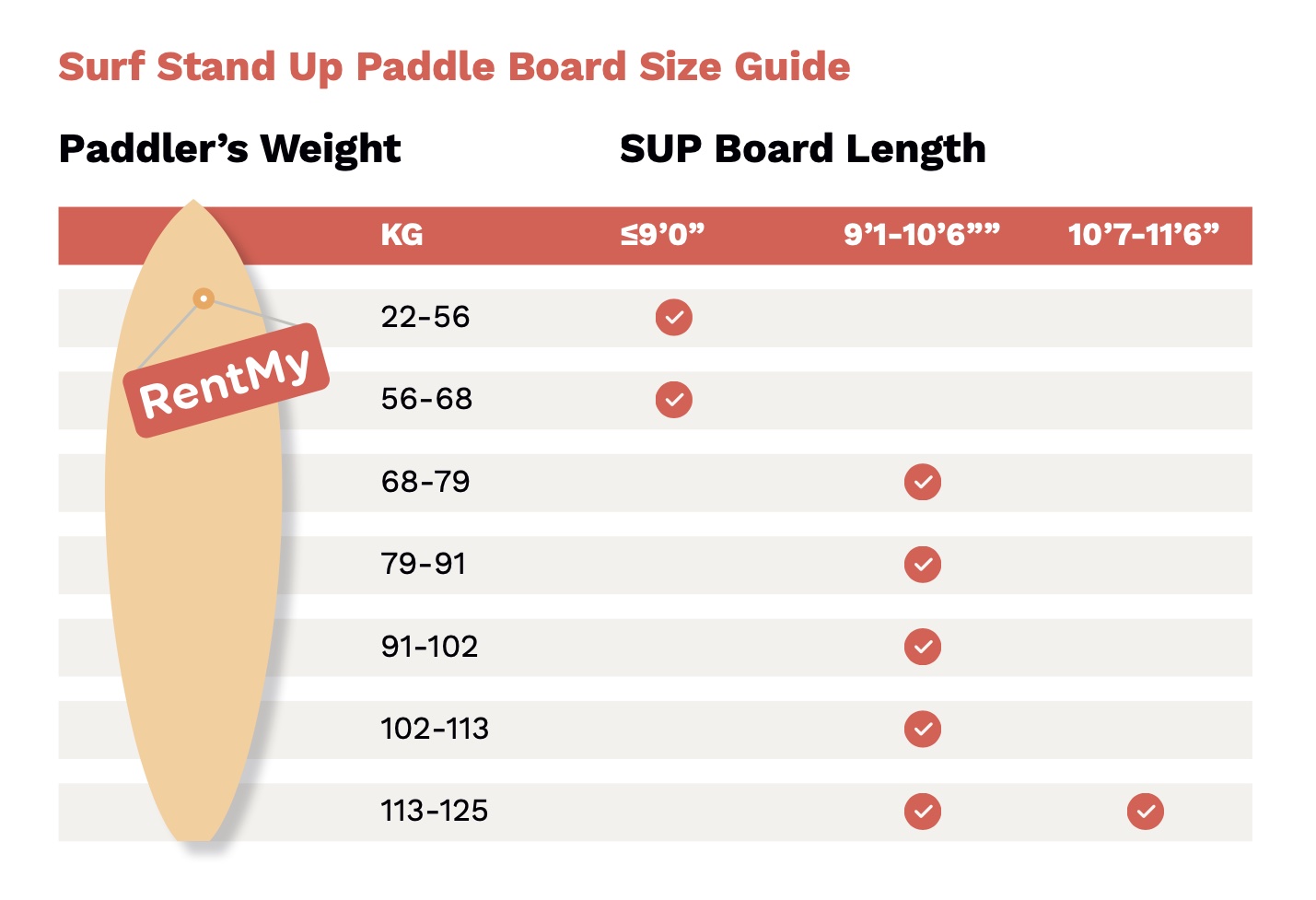 All-Round SUP
Again, the clue is in the name! If you're a complete beginner wanting stability and control while still having the option to try it in surf or open water, an all-round SUP is the perfect option. They are generally longer, wider and often thicker too, which all enhance the stability. If you're looking for a weekend of exploring your local river or simply want to try out paddle boarding before making a purchase, I'd recommend renting an all-round board.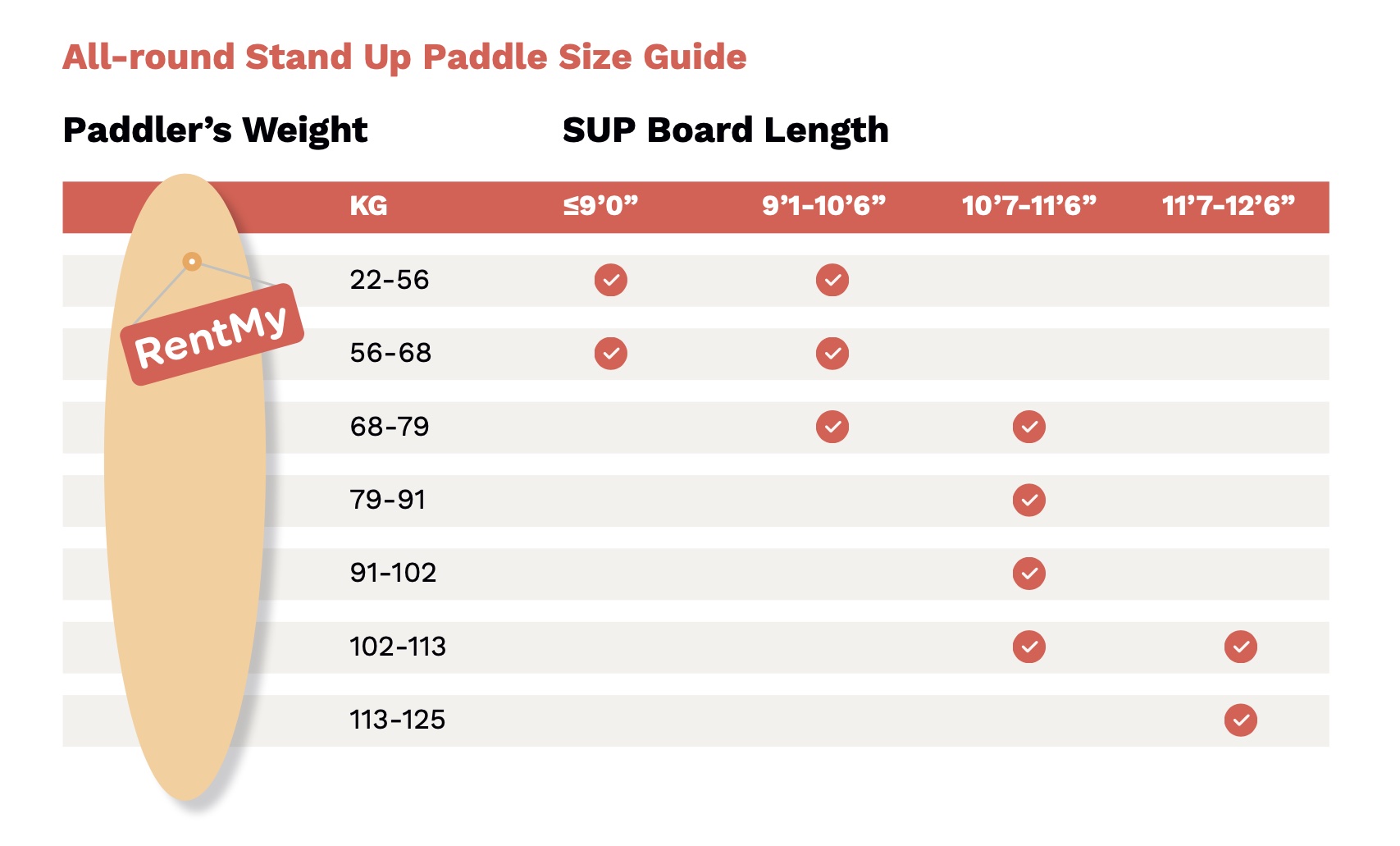 Longboard/race SUP
The longboard or race SUPs are usually much longer and thinner than their cousins. Designed for optimal flat water or ocean paddling, they are great for going long distances in a straight line, however if you are in need of manoeuvrability you'll need to look elsewhere. Built for speed in a straight line, the longboard race SUPs are great if you're a more experienced paddle boarder wishing to do some long distance trips.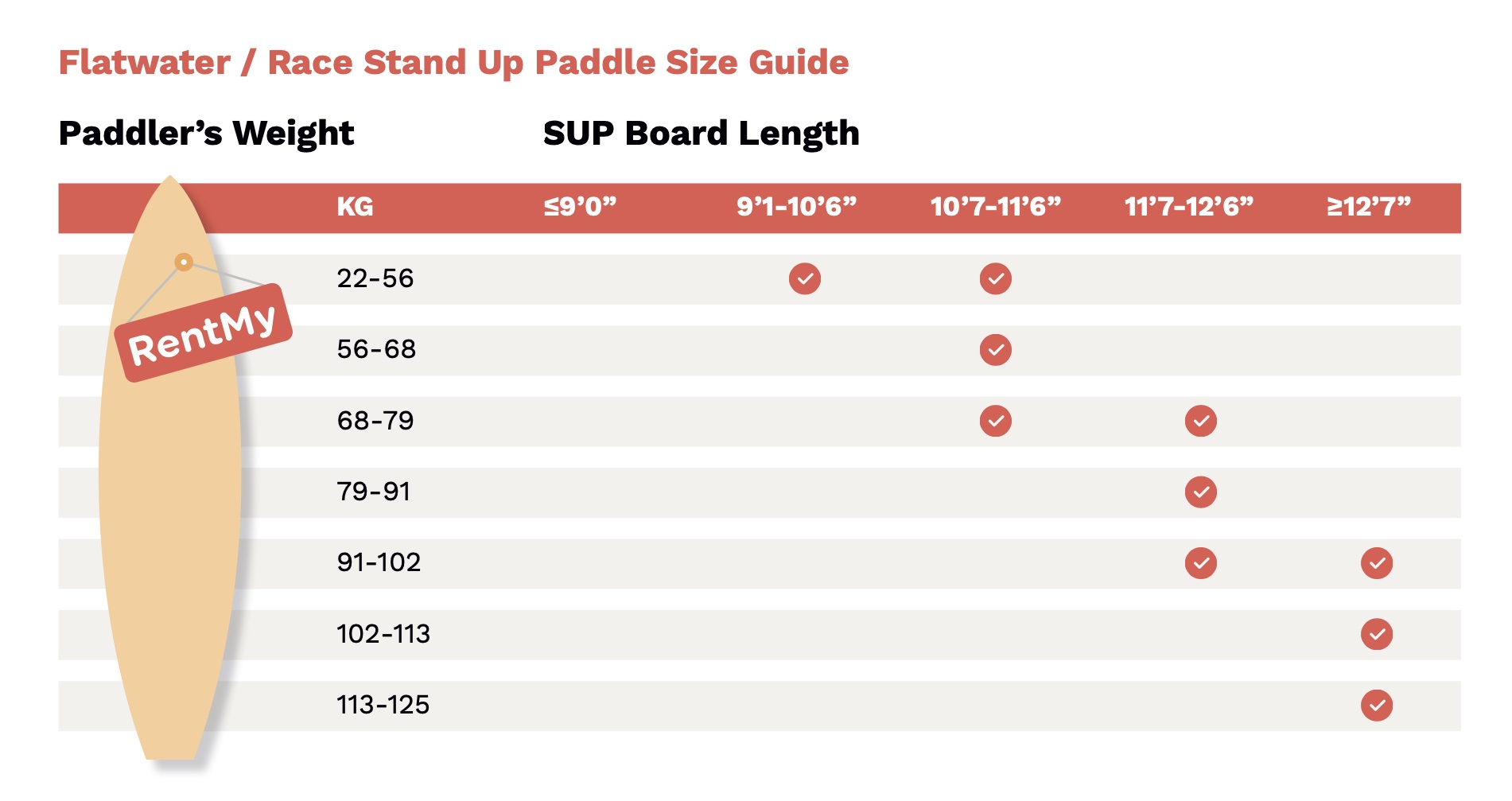 As well as the three main shapes, there are a variety of lengths, widths and thicknesses. The best route to deciding what you might need is by adding 9-10" to the height of the paddler. That being said the paddler's weight, experience and the type of use should also be considered. As a general rule it is best to match the board to you: a thinner, more petite person may find it easy to balance on a shorter, narrower board, whilst a larger person may not. Likewise, a thinner person will have to reach out considerably on a wide board which makes paddling less comfortable, so a narrow board may be better suited. If there are several boards available to rent in your local area, you may as well go for one best suited to your size and shape, as well as the type of SUPing you are wanting to do.
Setting your paddle
Most paddles are adjustable, meaning you can alter it to suit the height of the paddler. For surf SUPing, you are usually in a lower position on the board so a paddle needs to be 6-8inches more than the paddler's height. For longboard and race SUPs anything between 8-12" above the paddler's height is needed to improve the reach and give more power to the strokes. As a general rule for all-round paddling, the base of the blade should be eye-height when the paddle is turned upside down.
Your paddle boarding trip
Once you've rented your board, adjusted the paddle to your height and packed your lunch – trust me, you'll be hungry after all that paddling – you can set off on your trip! One thing that's important to know, is that some canals and waterways require you to have a permit, so do your research before you go. Also, make sure to keep an eye on the weather and conditions, especially when going out to sea, as wind can really ruin a day of fun on the water. If you're trying it out for the first time, staying close to shore, or planning your trip for a reservoir or low current river is probably your best bet. If you're more capable then the world is your oyster and the beauty of paddle boarding in the many rivers and lakes of the UK is yours to enjoy.
Have fun!